One of 9 fires burning in San Diego. This one, the San Marcos (Cocos Fire) is still burning as of May 16, 2014 - 3PM along with another fire the behind me in this shot in Oceanside.
Thank you to the numerous friends and family who called, emailed and texted to check up on us during these last few days of the raging San Diego Fires. While the Carlsbad Fires came within a little over a mile from us, we did not need to evacuate, though our bags were indeed packed.
Our radio and tv have been tuned to nearly 24-hour fire news coverage, and my heart goes out to those who have lost so much. Driving around today the devastation is incredible, yet other areas have so much that has been saved. The fire crews have worked tirelessly and here in our Carlsbad fire, they kept the losses to a minimum. We have friends who have scorch marks right up to their back yards, yet their homes remain safe. The Aviara School incurred very little damage and though the fire did its best to claim it, our firefighters were stronger.
Just as I began to relax about our Carlsbad fire another erupted just 10 miles away in the San Marcos area bringing new fears for my parents. Thankfully the fires never came closer than 4 miles or so, and they are now in the clear. Mom texted at 2 AM the other night saying she couldn't sleep and spent a few hours on the porch watching the brilliant fire lines, all the time tears streaming down her face.
Emotions have run high in our county over the last few days, but my heart has been consistently warmed by the generosity of humanity. Story after story has emerged showing neighbors helping neighbors, strangers saving animals, and volunteers caring for the now homeless. I'm proud to be a part of this community.
Here we have a few images that have stuck with me over the last few days... Most are not mine as we have stayed away from the fire areas unless they came close to us.
Mom's view of the Cocos Fire (found on Redit - no photo credit available)






Fires burned right up to the homes in Carlsbad (pc. america.aljezeera.com)
Even the firefighters were impressed with the DC-10 Super Tanker (pc. NBCNewsSanDiego) See NBC10 Video here: Super Tanker)
Fires from Carlsbad Coastline (pc. carlsbadistan.com)
Evacuation of Aviara Oaks School (pc. Balletpointers Instagram)
Traffic at a near standstill as I tried to get gas... fire behind me, fire in front of me. (pc. Kim Kelly | Liv Life)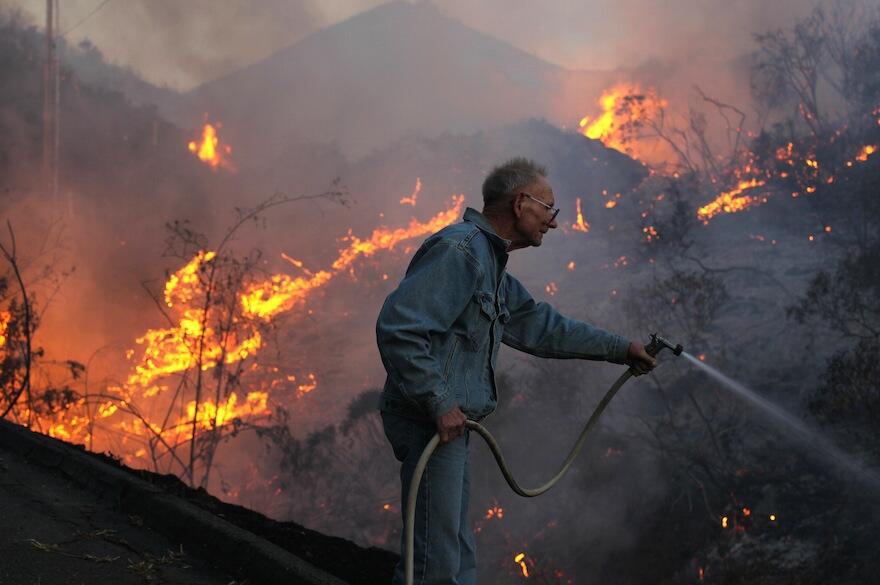 "Dramatic image of 72-year-old fighting #CocosFire with garden hose by @RickLoomis via @latpix http://lat.ms/RURL8T pic.twitter.com/pdpUnPIOCX"
Apartment Complex burned in Carlsbad... 22 units lost (pc.Sean M. Haffey - UT San Diego)
A San Diego Fire Department Helicopter drops water on flames as they spread behind Aviara Oaks Middle and Elementary School in Carlsbad. — John Gibbins / UT San Diego
With a thousands of evacuations still in effect, road closures and numerous fires still burning, San Diego is still fighting. The weather today has turned and the 100º+ temperatures are some 15 degrees lower and the strong Santa Ana winds have shifted back to our normal on-shore breezes.
Our thoughts and prayers remain with those affected and with the firefighters on the line. Hundreds of firefighters from all over the state are here helping with these blazes. San Diego thanks you.
Smoky skies bring brilliant orange hues and stunning sunsets giving the appearance of peace and calm as the fires rage on. (pc. Kim Kelly | Liv Life)




Smoky Moon... (pc. Kim Kelly | Liv Life)